Organic Hair Colour Fixing Shampoo byPureNaturals
Regular price
Sale price
Rs. 445.00
Unit price
per
Benefits of Organic Hair Colour Fixing Shampoo byPureNaturals:
Non Toxic hair colour fixing shampoo:

 

No SLS, No SLES. No Parabens.
Certified organic and Doctor Recommended:

 

All ingredients are certified organic and frequently prescribed by leading dermatologists. Ecocert certified.
Effective colour fixing shampoo for coloured hair:

 

Gently shampoos the hair without causes loss of hair colour.

Effectively fixes the hair colour onto the greys.

Cruelty free:

 

Not tested on animals.
Protect hair color from heat and dirt.
Unisex, Soothing, skin friendly, hair color fixing shampoo
Contents

One bottle of hair colour fixing shampoo - 100 ml
Safety Information

While switching to sulfate and SLS-free shampoo, your hair will feel a difference in texture and lather while shampooing. This is expected as the body adapts to using more natural ingredients rather than toxic chemicals.
Share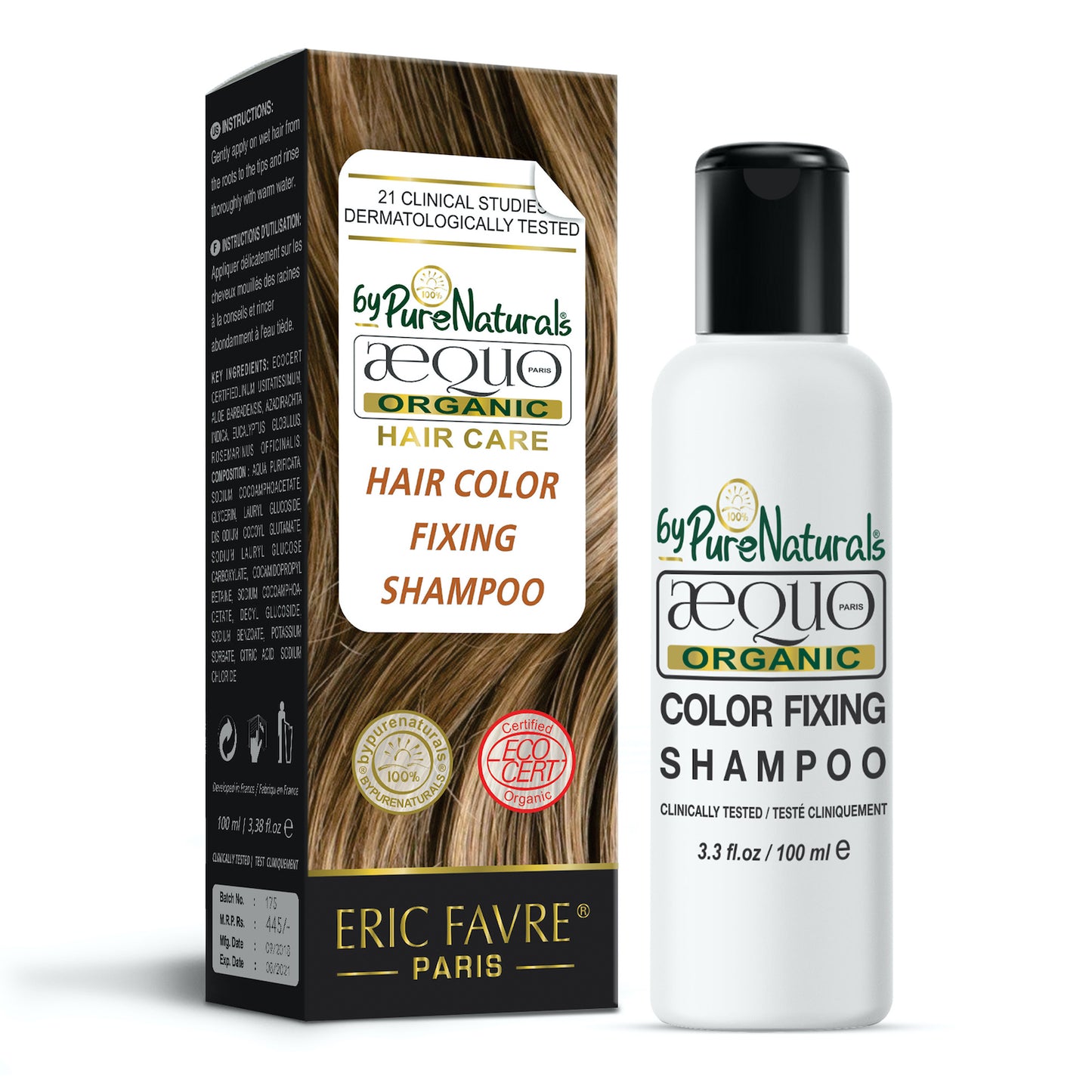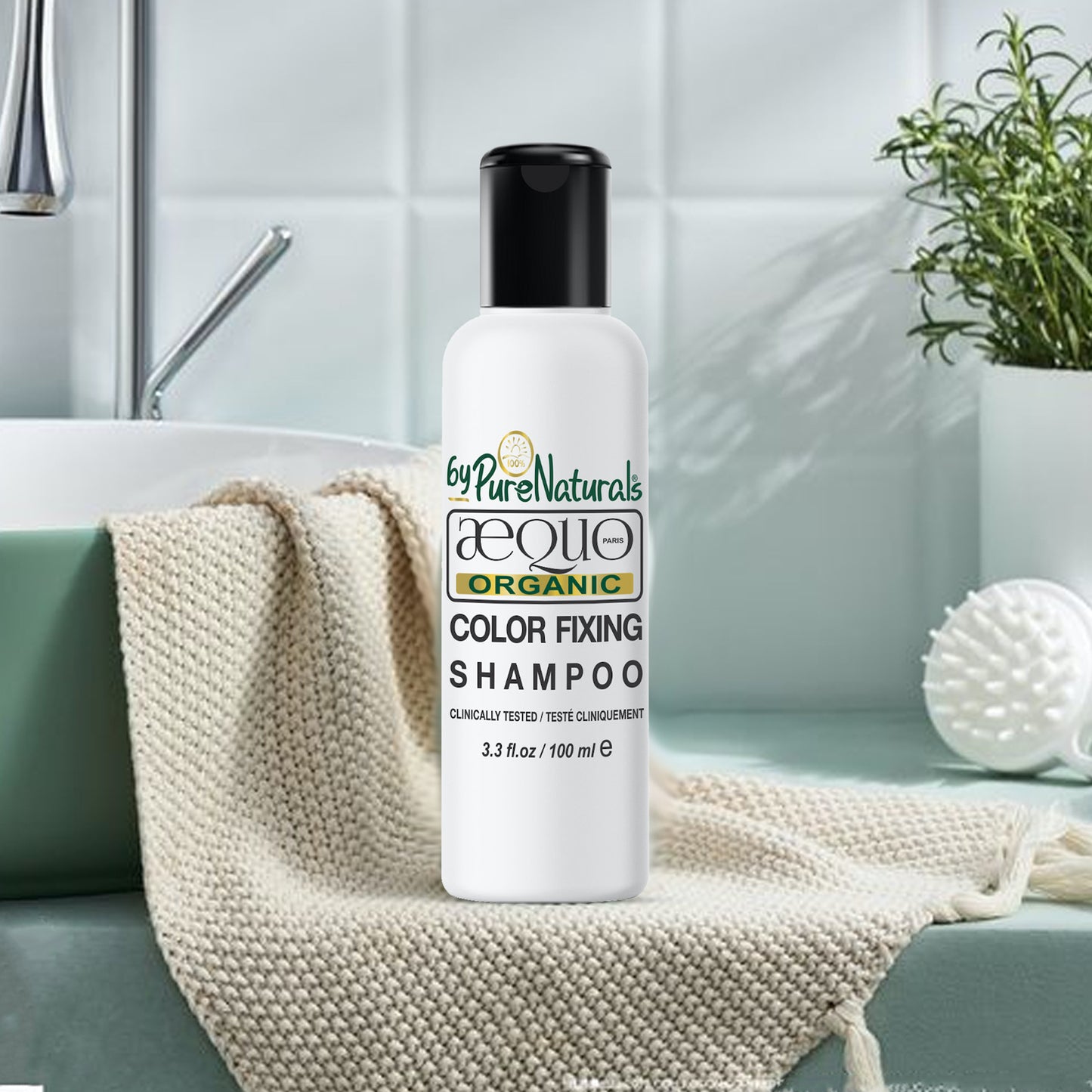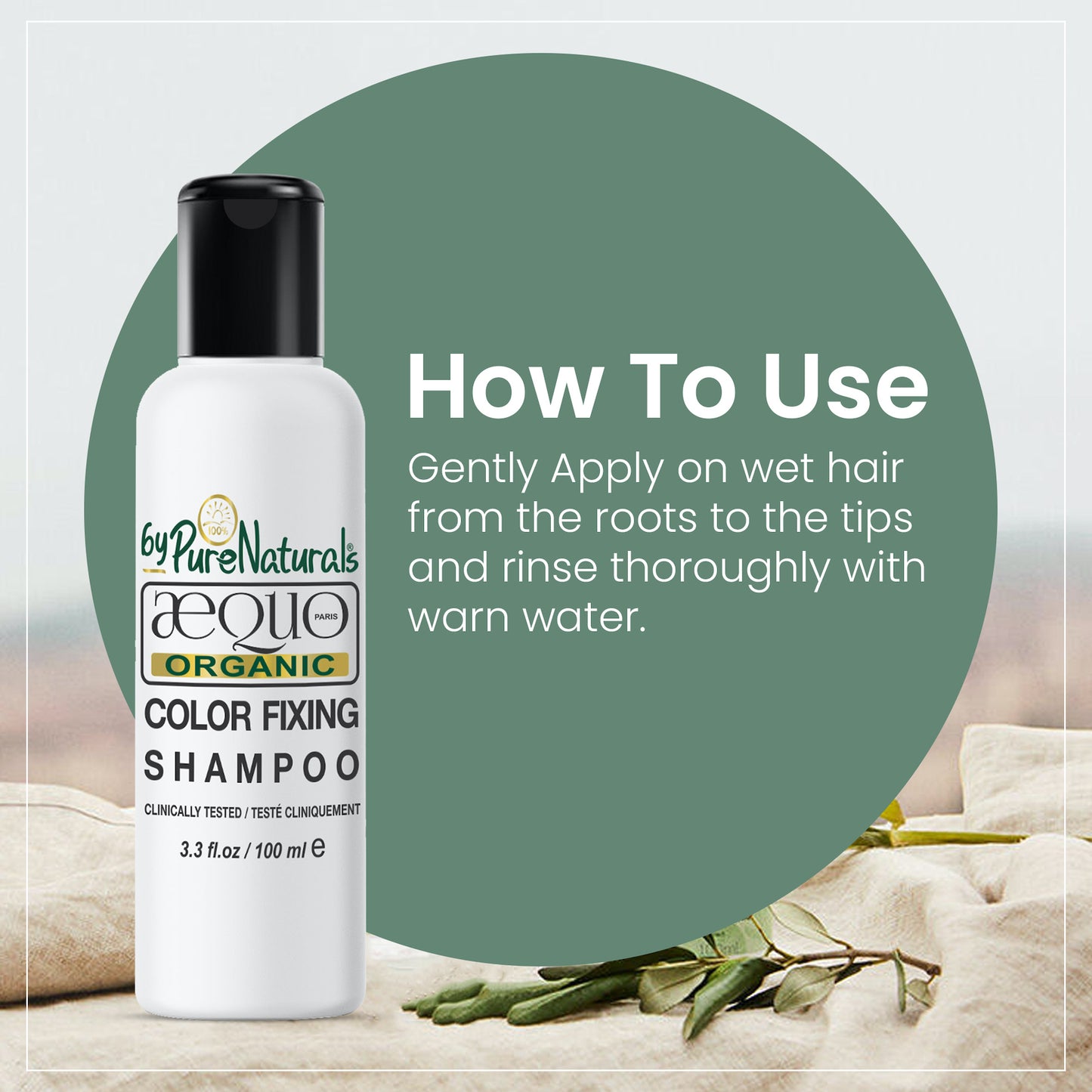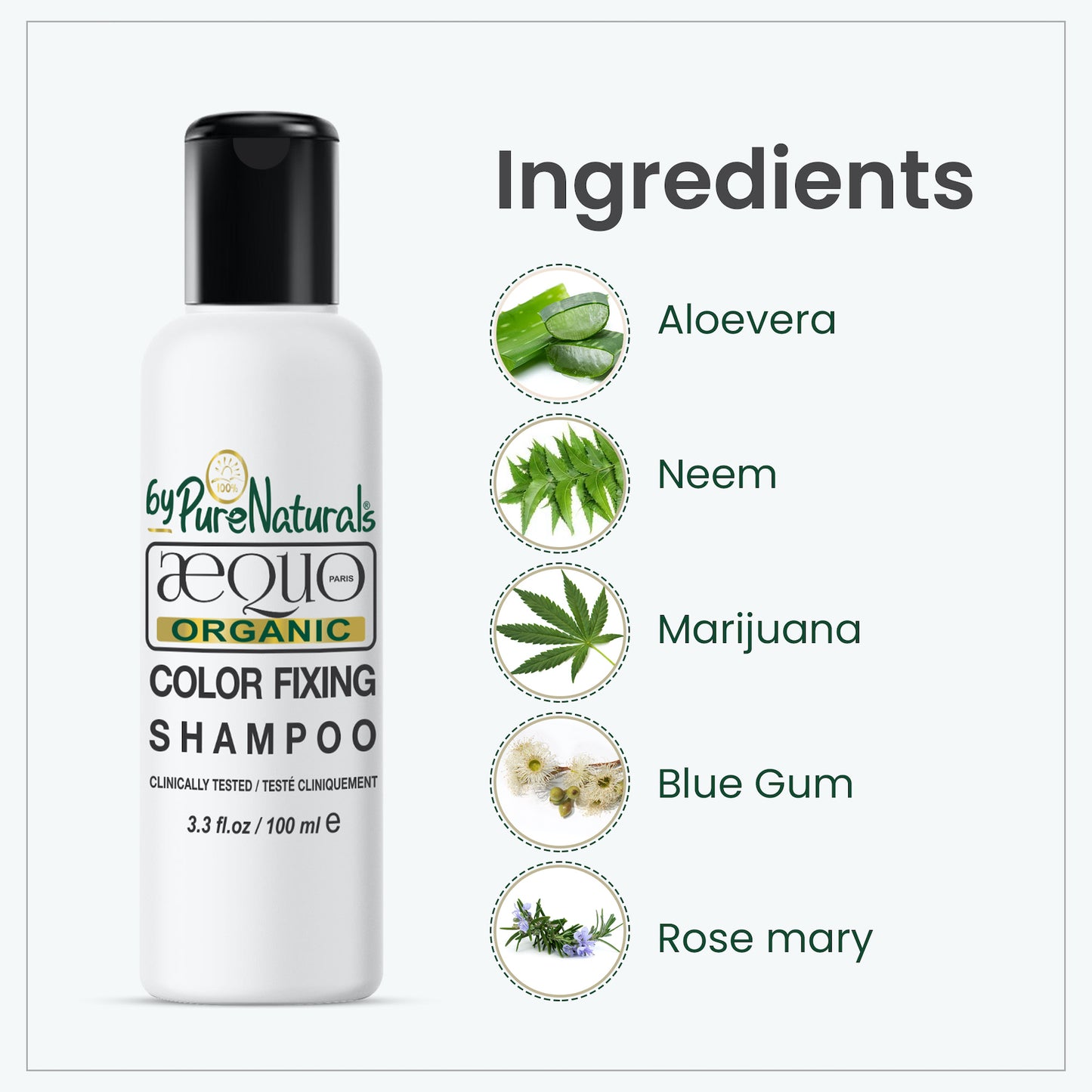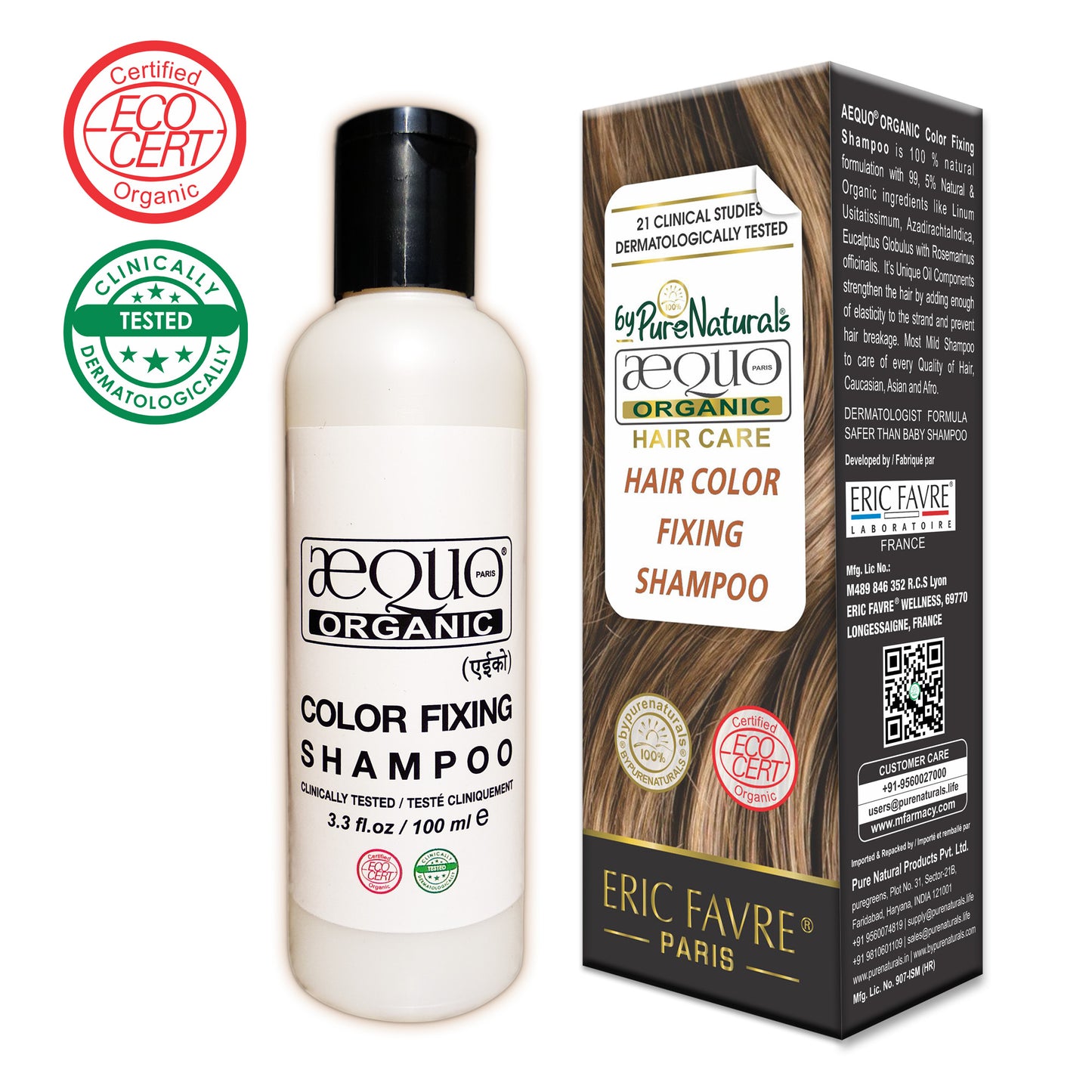 Hair colour fixing shampoo
After colour shampoo is good and takes away extra color from hair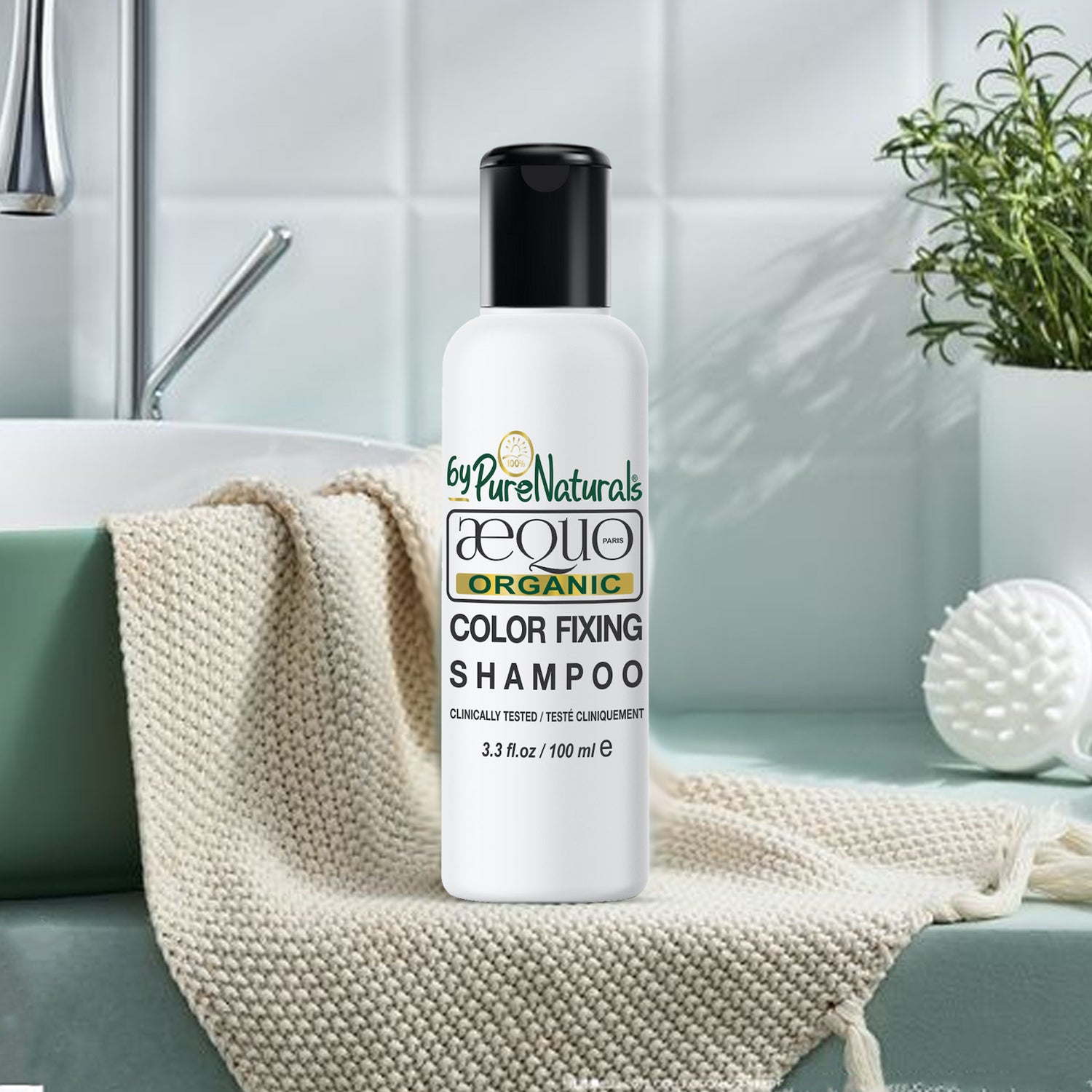 How to use Organic Hair Colour Fixing Shampoo byPureNaturals
1. Wait atleast 24-48 hrs after colouring your hair to use a colour fixing shampoo.
2. Take a sufficient amount of shampoo on your palms and rub it between your palms.
3. Apply it on wet hair and massage it into the hair and scalp from roots to the tips.
4. Leave on for 2-3 minutes and rinse off thoroughly. Limit washing to 3 times a week.
Watch Video
Why use Organic Hair Colour Fixing Shampoo byPureNaturals
FAQ's

Q: Does This Product Contain Essential Oils?
A: Yes. Essential oils are used within permissible limits.

Q: Is this a Unisex product?
A: Yes, it can be used by both men and women.

Q: The shampoo produces less lather than a normal shampoo. Is that expected?
A: Yes! The colour fixing shampoo produces less lather but has better nourishment and color fixing effect than regular shampoos.

Q: When should I shampoo my hair after colouring my hair?
A: It is advisable to wait at least 24 hrs and up to 48 hrs after colouring your hair. Try and limit your washing to 3 times a week.

Why use this formulation?

Enriched with the natural goodness of linseed extracts, aloe, neem, eucalyptus, and rosemary essential oil.

This is a mild and serene shampoo that is known to cause no skin irritation. It is suitable for daily usage as it is formulated using a balanced pH formula.

It functions as a gentle shampoo that can moisturize the hair from root to the tip. Its oil based cleansing agents can cleanse the scalp and repair hair damage. It also prevents hair breakage.

This organic formula is specifically designed to provide softness and shine to color-treated hair.
Prime Ingredients in Organic Hair Colour Fixing Shampoo byPureNaturals
Linseed extracts

Known for its golden-brown color, Linseed is considered a nutritional powerhouse for its combination of essential macro and micronutrients. These include protein, omega-3 fatty acids, fiber, and antioxidants.

The Vitamin E in flaxseed oil helps to treat hair loss and stimulate new hair growth. Lignans act as strong antioxidants which can help in the regrowth of healthier and stronger hair.

Rosemary Essential oil

Rosemary is a medicinal plant that has been used to treat a variety of ailments, including skin irritation and hair loss. It is believed that rosemary oil has strong anti-inflammatory properties which promote healing in the skin and scalp.

Rosemary oil has been found to improve hair growth in specific cases of loss.

Rosemary oil's ability to prevent loss comes from its prevention of breakage and its improvement of the scalp environment.

Eucalyptus

The Eucalyptus tree is stated to be a native of Australia. Eucalyptus Essential Oil is mostly derived from the Eucalyptus globulus variety of the plant. Its leaves are steam-distilled to extract the oil.

The antifungal and antiseptic properties present in Eucalyptus oil works against the formation of dandruff. Eucalyptus Oil increases the production of ceramides in your hair and scalp and its astringent properties help in regulating sebum production on the scalp.

Regular application of Eucalyptus Oil gives a natural shine to your hair.

Neem

Considered sacred by the people of India, the legendary tree has come to symbolize good health and protection.

It has antimicrobial, antifungal, and antiparasitic properties and has been used to treat ailments, from head to toe.

When applied to the hair and scalp, neem oil is believed to act as a natural dandruff buster by eliminating the bacteria at the source of the flakes.