Organic Herbal Henna byPureNaturals
Regular price
Sale price
Rs. 290.00
Unit price
per
Organic Herbal Henna byPureNaturals is an excellent choice for natural hair coloring. All ingredients are organic, ensuring the highest quality. Experience the best in herbal henna with this natural hair coloring.
Organic Herbal Henna byPureNaturals is a top-of-the-line henna solution made only from the finest, certified-organic ingredients. Enjoy bold color results with this natural product free of synthetic additives and artificial chemicals. Perfect for both body art and hair coloring, this henna has been expertly crafted to provide long-lasting, vibrant results.
Organic Herbal Henna by PureNaturals is a natural, organic hair coloring option consisting of plant-derived powders used to create a Semi-Permanent dye to cover gray hair. Its natural ingredients such as Indigo, Amla, Neem, and Shikakai help nourish and rejuvenate your hair while providing optimum color coverage. Buy online now to experience the amazing benefits of PureNatural's natural henna.
PureNaturals Organic Herbal Henna is a natural product created with no added chemicals or artificial preservatives. Harvested from a certified organic farm, it is carefully processed and sealed to ensure freshness and quality. A natural dye, it is perfect for traditional body art, creating long-lasting results.
Organic Herbal Henna byPureNaturals provides natural, herbal-based hair color and conditioning with no synthetic dyes or chemicals. It is 100% organic and cruelty-free, offering a safe option for achieving glossy and beautiful color.
byPurenaturals 100% Pure Naturals Powder Hair Color, Henna with Herbs is absolutely natural and chemical-free. It not only colors but nourishes hair from deep within. The natural hair care powder provides nourishment, controls dandruff, hair fall, strengthens the strands, adds extra sheen and shine with the goodness of real Rajasthani mehendi, Shikakai, Amla, Brahmi, Neem, Ghritkumari, Jaswand and Bhringraj. Learn more about best aqua hair colour.
Benefits of byPureNaturals herbal black henna for hair:
Pure Natural Herbal Hair Henna Powder doesn't contain any artificial colorants.
Continued usage of Hair color on grey hair gives a natural henna color for hair
Herbal henna is known to provide nourishment for Scalp.
Best Herbal Henna Hair Colour for hair nourishment and deep conditioning and unique softness.
Made with Rajasthani henna 
Contents

Rich Hair Henna 120 gm ( 2 x 60 gm pouches), Shower cap, Application leaflet, Pair of protective gloves.
Safety Information

We understand that different skin and hair types react differently with a product. We recommend that you conduct a skin patch or hair strand safety test before all-over application.
Share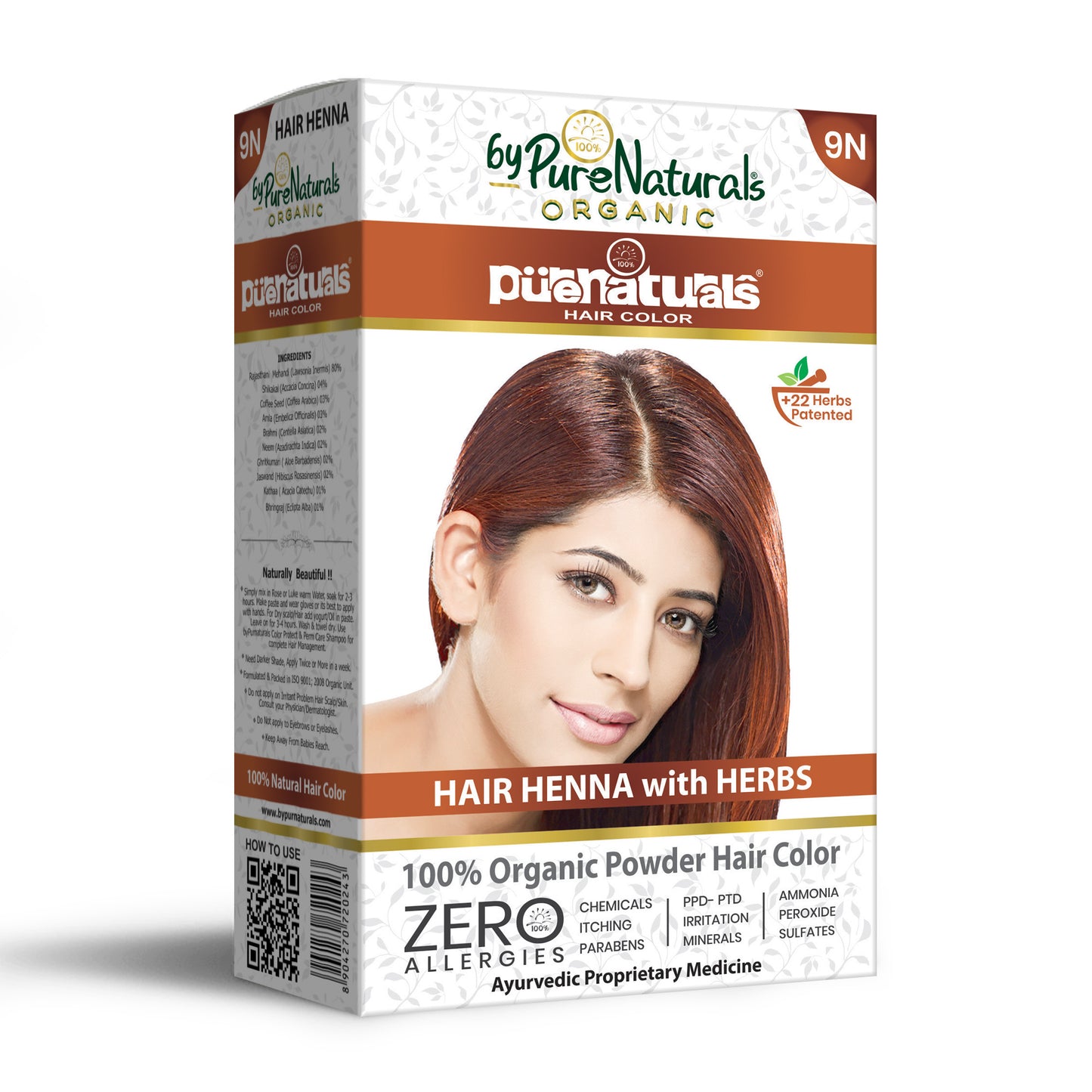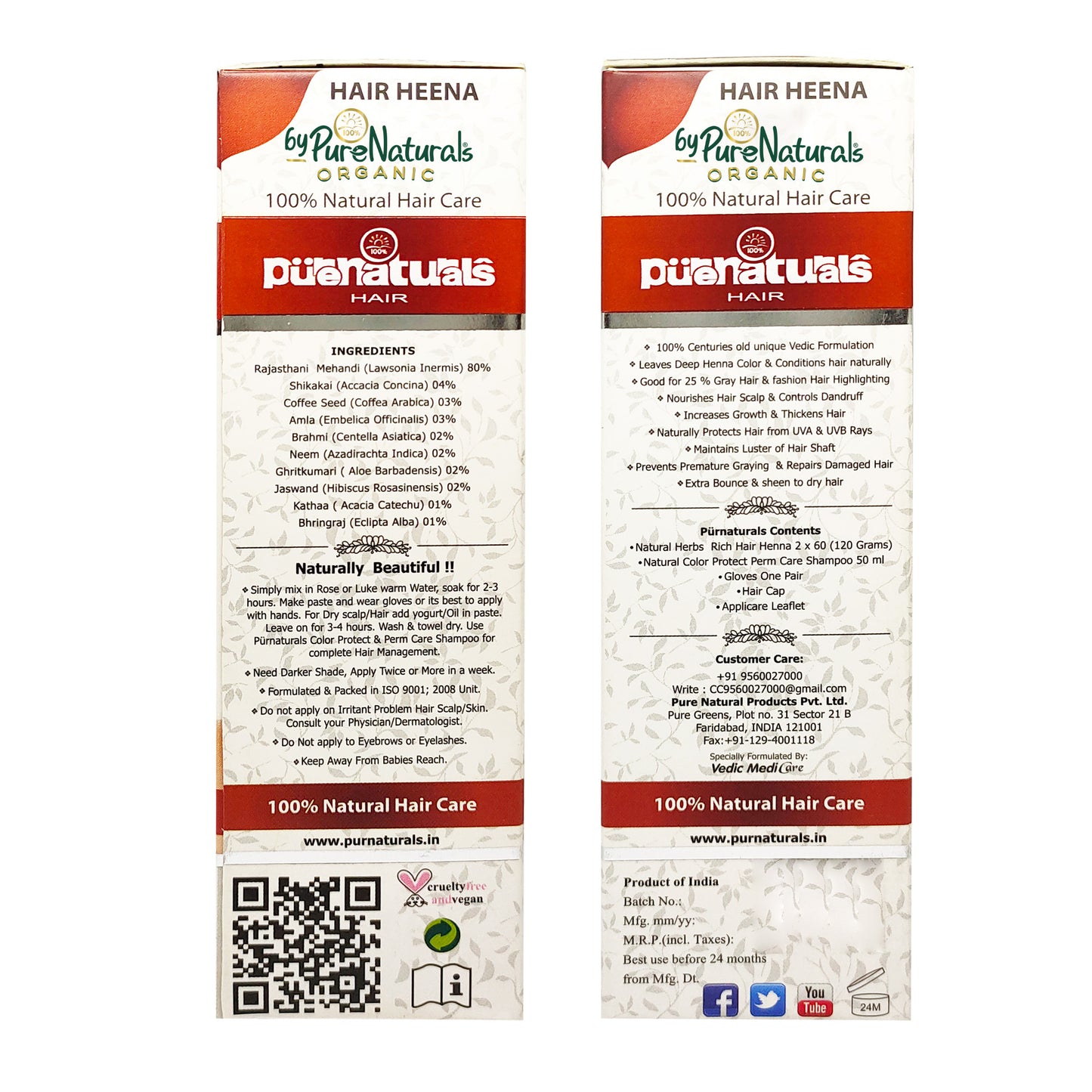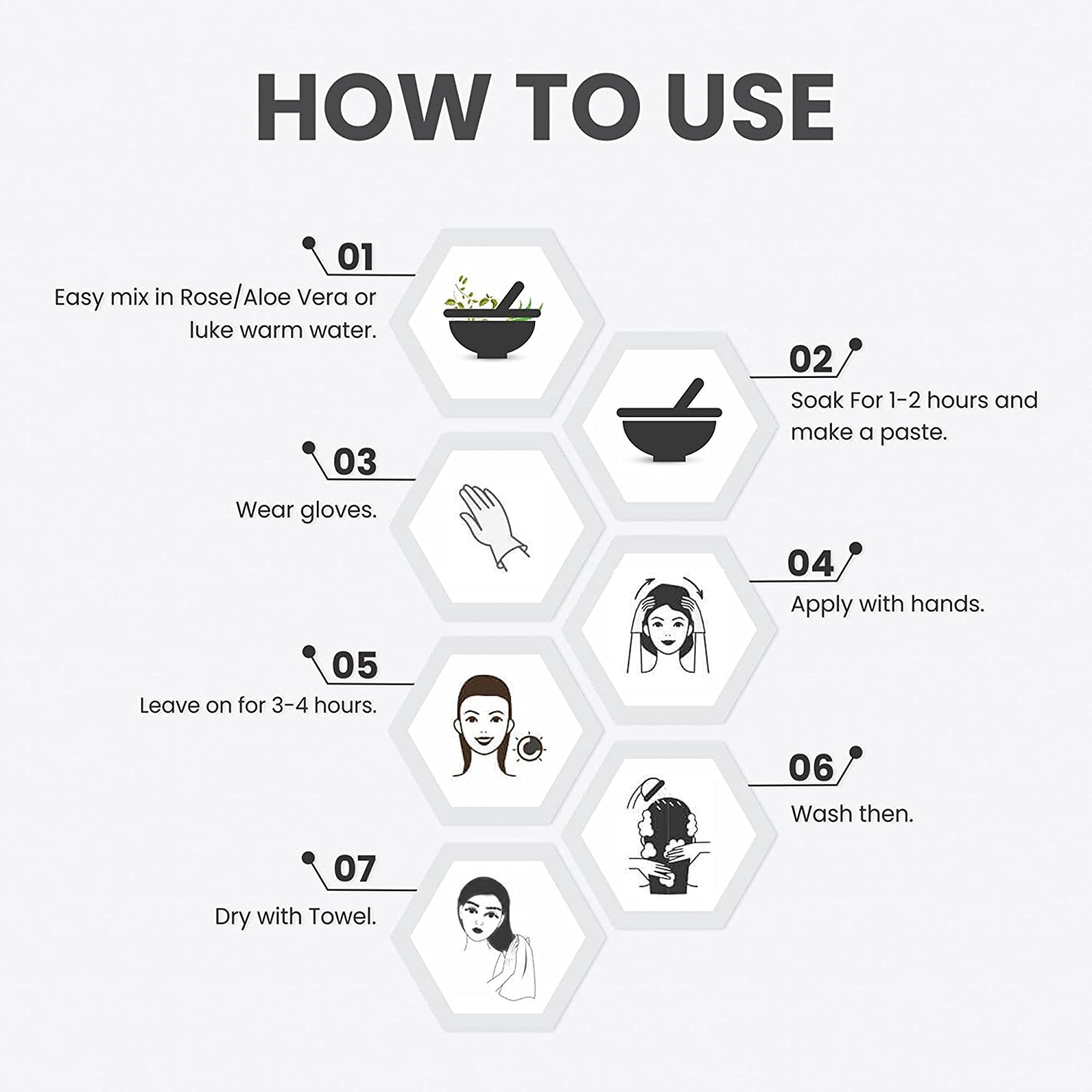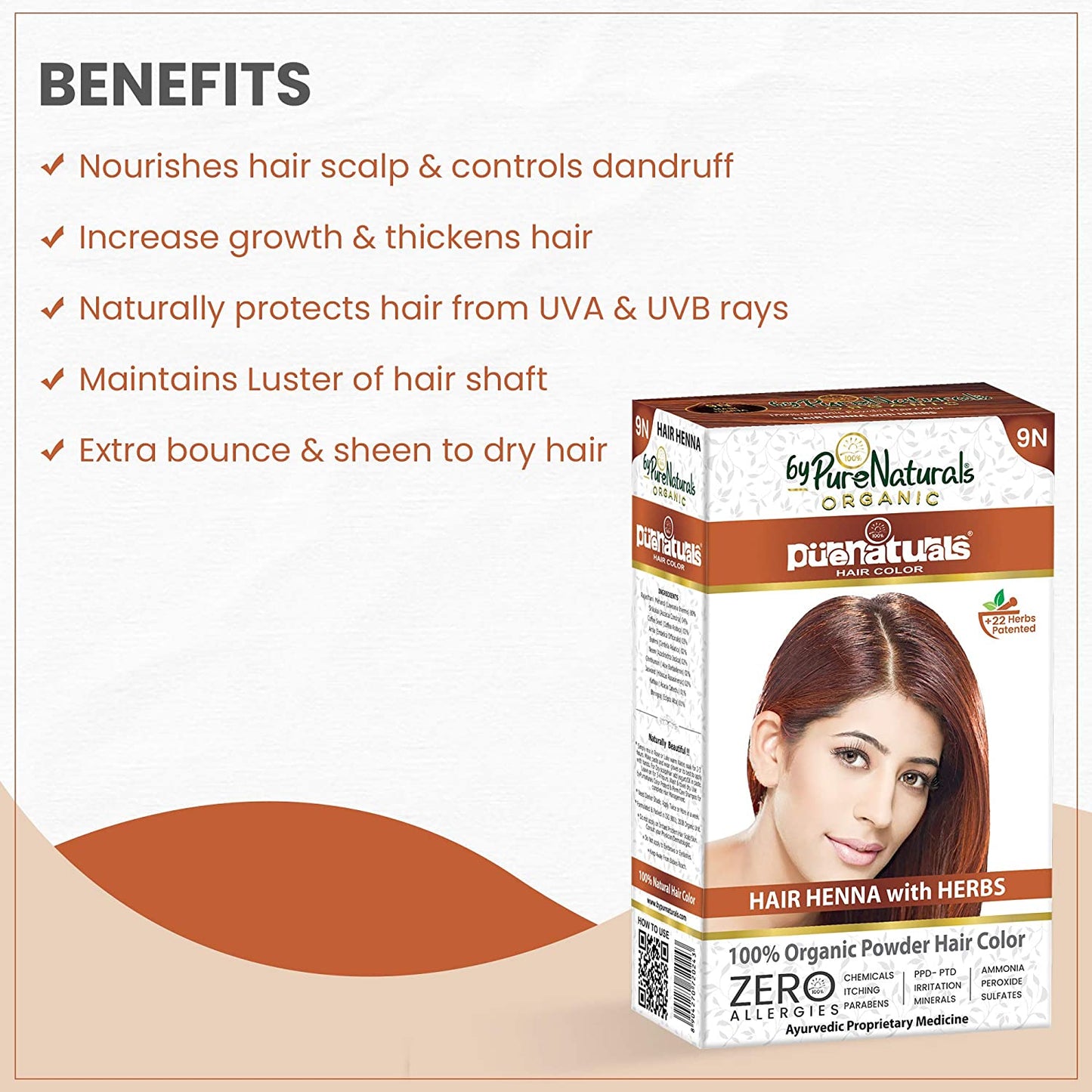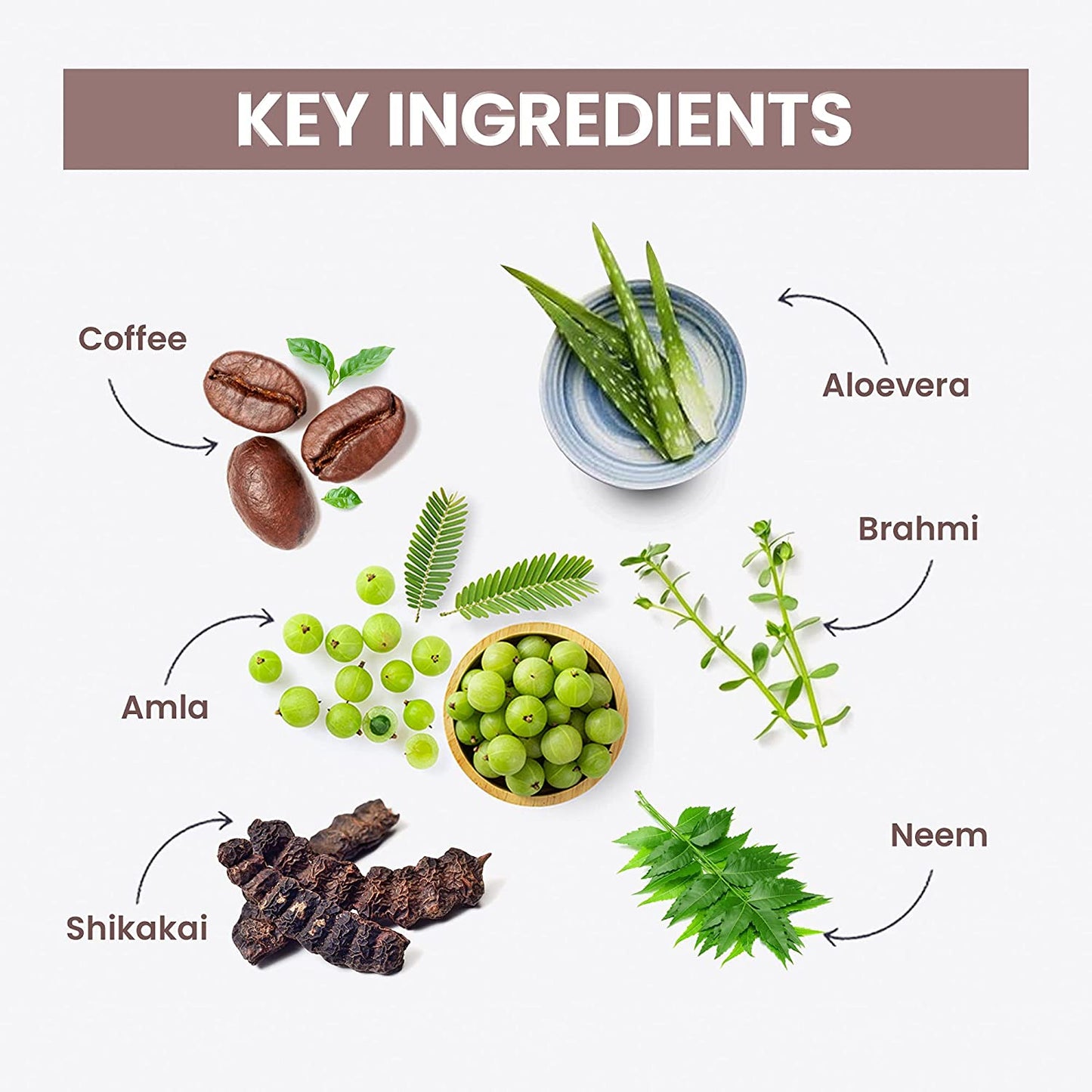 Organic Herbal Henna byPureNaturals
Good product
My mom used it and she liked it. It's all organic and no artificial colour which is the best part because previously she was suffering from hairfall after applying other companies henna which has reduced significantly with byPureNaturals herbal henna. Nice product. Works well for hair.
Purcahse
I need it for cash on delivery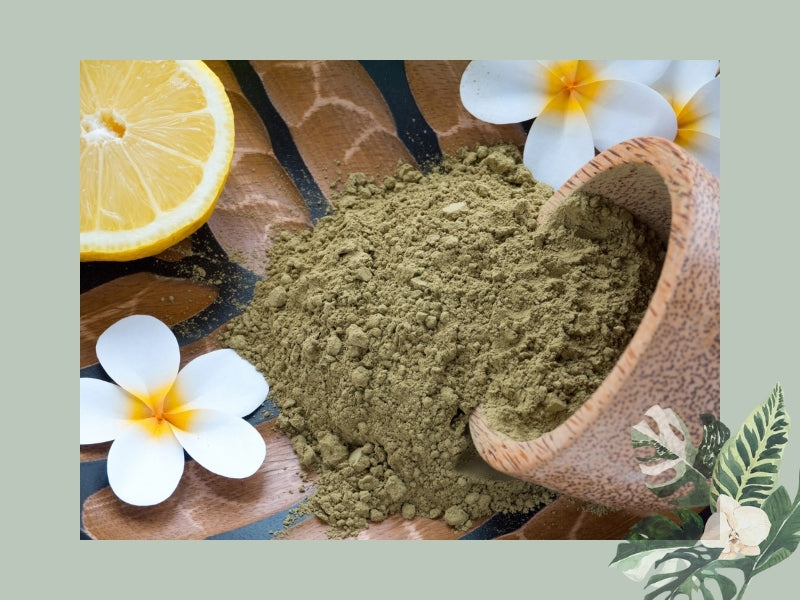 How to use Organic Herbal Henna byPureNaturals
Mix in Aloe vera/ Rose water or luke warm water.
Soak the powder for 2 hours till it becomes a paste.
Wear Gloves/ apply with hands
Leave on for 3-4 hours
Wash with running water and dry with towel
Watch Video
Why use Organic Herbal Henna byPureNaturals
FAQ's

Q: Can we apply hair dye after applying Herbal henna byPureNaturals?
A: Our Herbal Henna contains 100% pure henna i.e. it is completely natural and contains no added colours, metallic dyes, or chemicals of any type. Therefore, we recommend you do not apply any dye after using herbal Henna byPureNaturals.

Q: What colour will it give when applied to black hair?
A: Henna's coloring properties are due to Lawson, a burgundy organic compound that binds with the hair protein. The colour that results from dying with henna can fall into a broad spectrum, from auburn, to orange, burgundy, chestnut brown.

Q: Can I mix it with Indigo powder to colour hair?
A: We recommend using our 100% Pure Natural Powder Hair Colour instead of going through the effort of manually mixing these colours or doing a 2 step colouring.

Why use this formulation?

It is a natural herbal powder that colors the hair and helps prevent dandruff and nourishes the scalp and hair by making it smooth and healthy.

It acts as a good conditioner for the hair and helps it grow faster.
A 100% pure herb Henna pack that is best for sensitive skin, doesn't cause allergies.

Made from centuries-old Vedic formulations.
Prime Ingredients in Organic Herbal Henna byPureNaturals
Rajasthani Henna (80%)

The exclusive Sojat Rajasthani Henna gets its special colour due to the soil and rain conditions of the region. The mehndi leaves have 2% more of the pigment lawsone than leaves grown elsewhere.

Shikakai

Shikakai, known by the vernacular names Shika in Tamil, Seekaaya in Telugu and Soap pod in English is a potent ayurvedic remedy for healthy, long hair.

This traditional herb which goes by the scientific name Acacia concinna is a climbing shrub with oblong-shaped pods of dark brown colour and pink flowers.
The pods, leaves and the bark of the Shikakai tree is a rich source of Vitamin A, C, D, E, K and Saponins.
From the ancient time, these soap pods being natural surfactant are being used for cleansing the scalp, strengthening the hair from roots, providing relief from scaling and also removing itching, dryness, greasiness and scaling of the scalp.

Amla

Amla (also known as Indian gooseberry) has been a staple in our hair care regimen since time immemorial, thanks to its myriad benefits of amla for hair growth.

Amla's concentrated form of vitamin C promotes collagen synthesis, which strengthens your scalp tissues. Polyphenols in amla proliferate dermal papilla cells of hair follicles, encouraging new hair growth.

Amla amazingly transforms your hair to make it longer, thicker, and lustrous. Tannins present in Amla stabilizes its vitamin C content even after it is processed. This is why most Ayurvedic herbal hair care products use amla as the primary ingredient.



Jaswand (Hibiscus)

Hibiscus is a tropical shrub with bright colored flowers. The flowers are found in various colours including red, purple, yellow, pink, and white. It grows primarily in south-east Asia. In Ayurveda, the Hibiscus flower or Japa Pushpa is dried, powdered, and used for healing multiple ailments.

Naturally occurring amino acids in hibiscus flowers provide the hair with a special kind of structural protein called keratin, which is the building block of hair.

It also acts as a Smoothening agent, Amino acid provider, and Conditioner.