Organic Hibiscus Powder byPureNaturals
Regular price
Rs. 210.00
Sale price
Rs. 210.00
Unit price
per
Organic hibiscus powder byPureNaturals
Certified organic Hibiscus herbal powder:

 

100% pure and organic Hibiscus  Flower powder
Certified organic by USDA Organic.
Contains only organically grown Hibiscus Flower powder.
No chemicals were used. 
Easy to use:

 

Microfine powder that does not form lumps even after prolonged packaging, easily forms into a paste
Edible:

 

Enriched with antioxidants and nutrients, the organic Hibiscus Flower powder is FSSAI certified.
Benefits of Organic Hibiscus powder?
Enhances skin health
Natural anti-dandruff solution
Boosts blood circulation
Regulates appetite and curbs untimely cravings
How to use Organic Hibiscus powder byPureNaturals?
How to use organic Hibiscus powder for hair: Use along with Amla powder
Take organic hibiscus powder byPureNaturals and mix it along with amla powder byPureNaturals.
Mix it with water to a comfortable consistency to apply to your hair.
Leave the hair pack for 40 minutes.
Rinse it off with lukewarm water and take a head bath.
Remember to wash your hair with a herbal shampoo byPureNaturals as it retains the pack's impact and clears the residue.
Do it 1-3 times a week.
Contents

100 gm Organic Hibiscus Powder
Share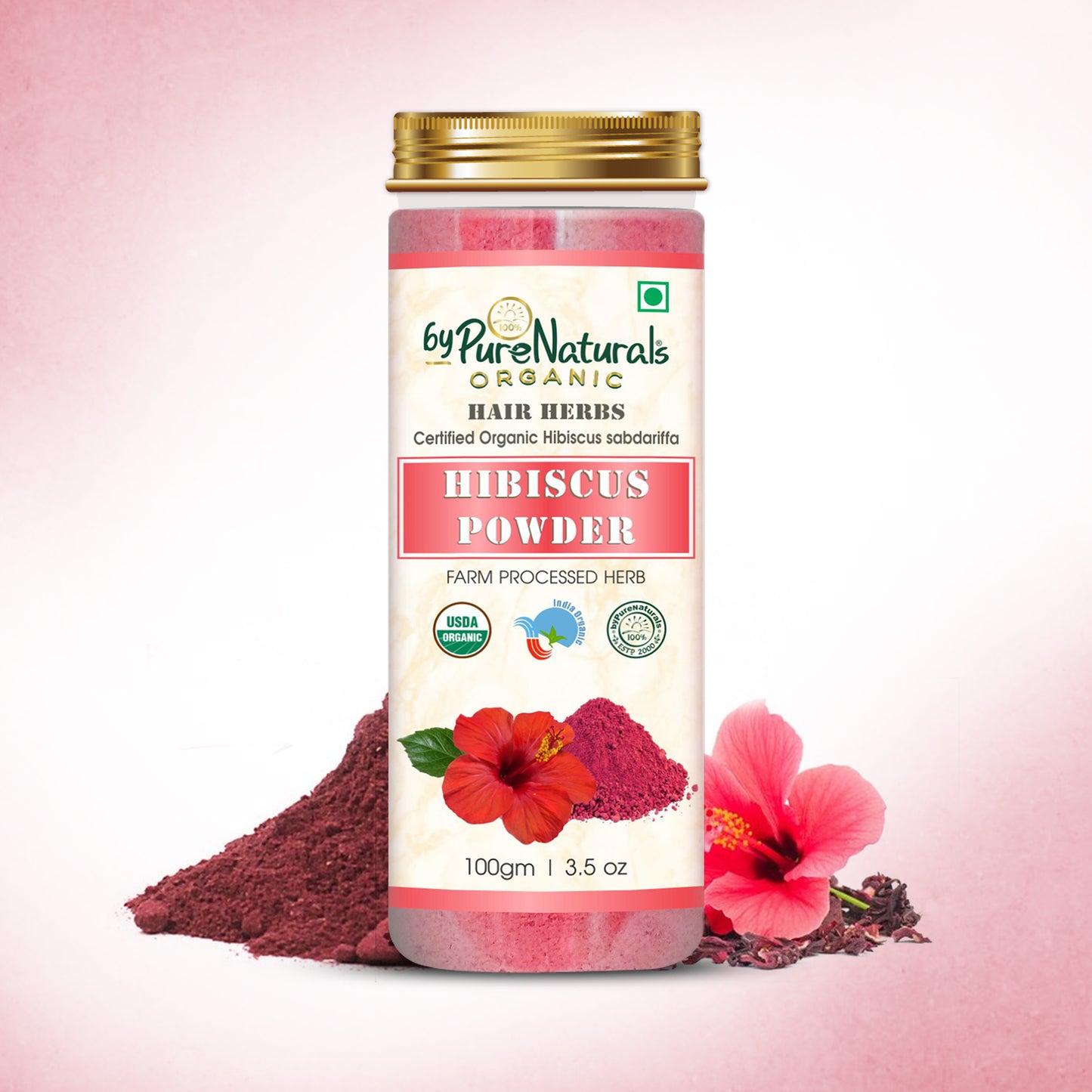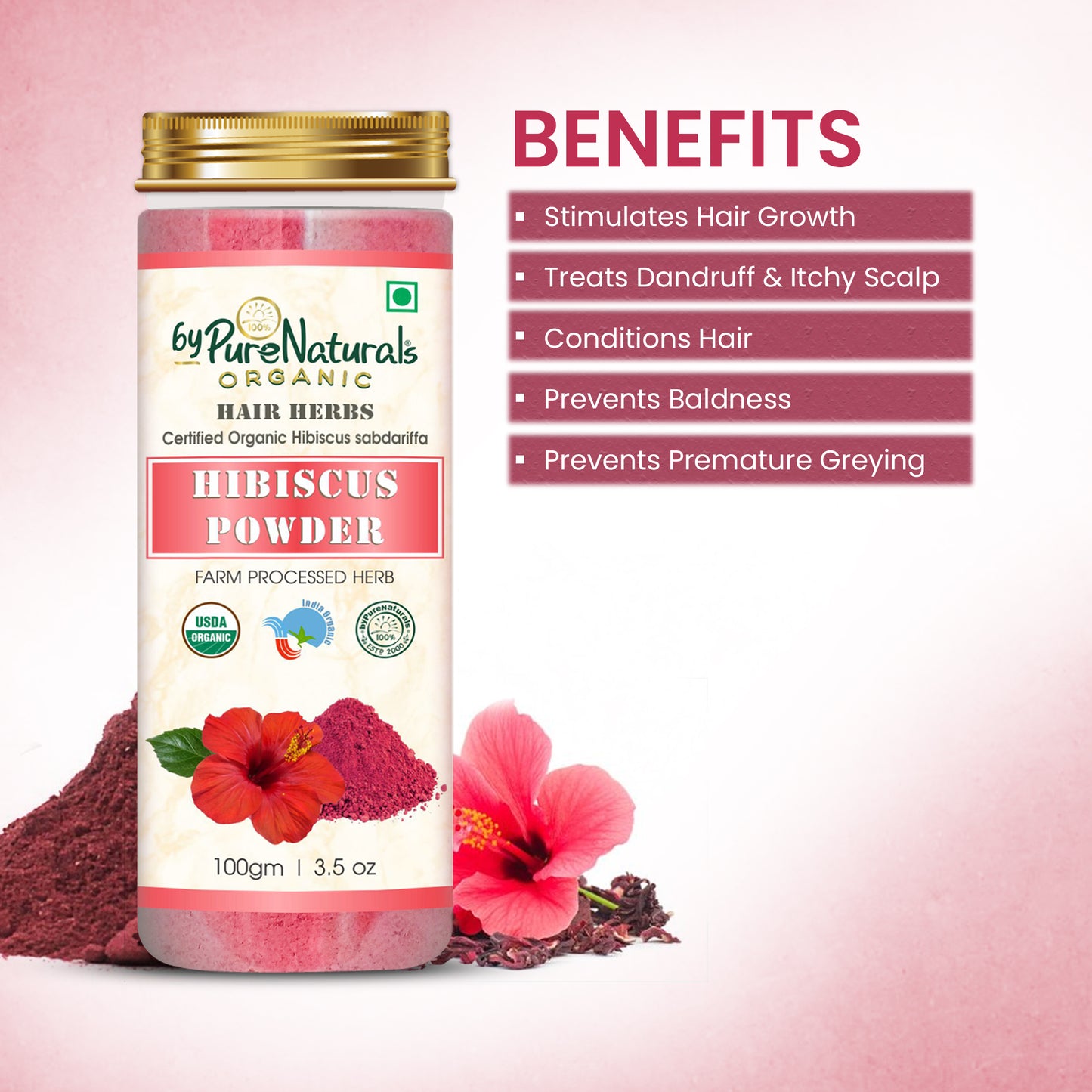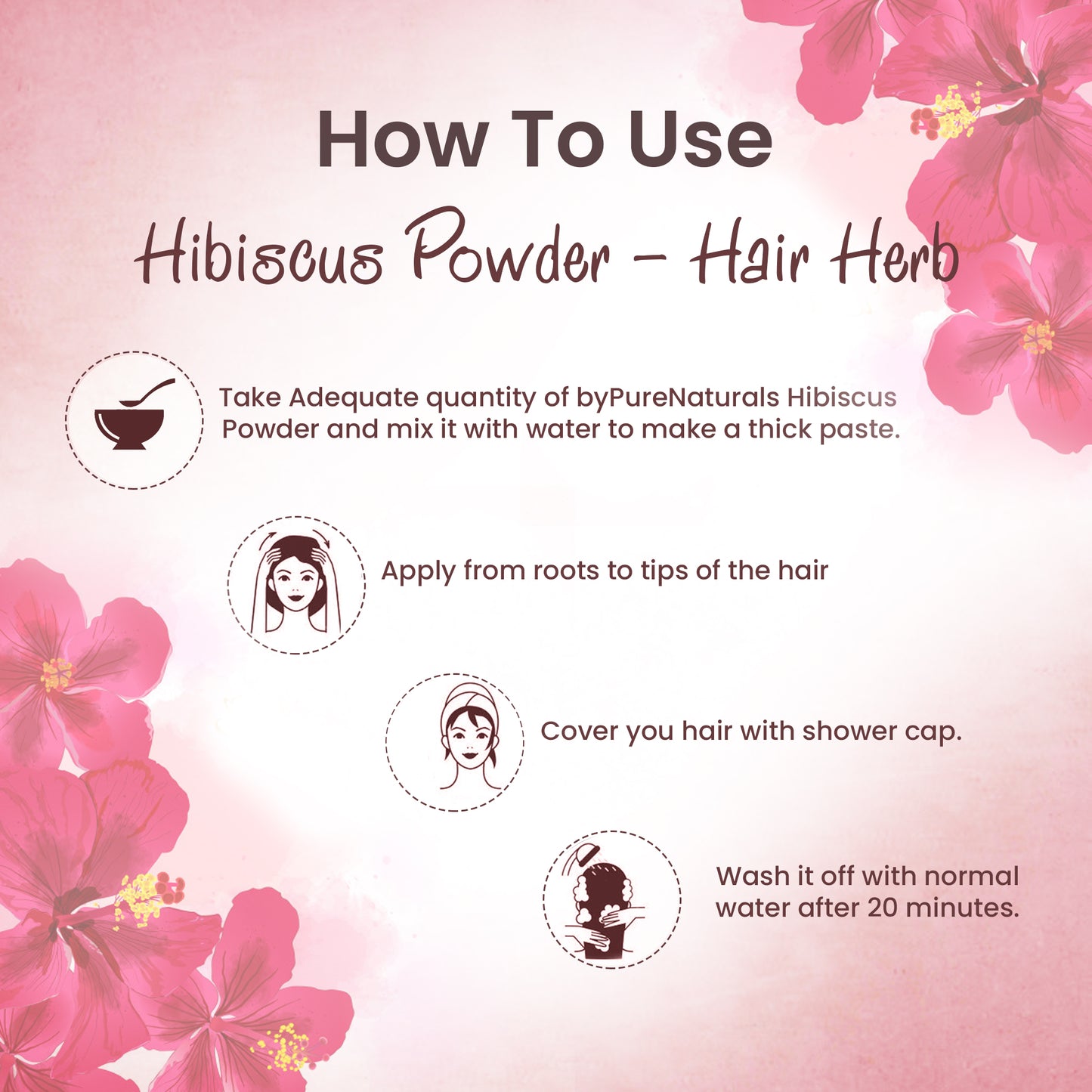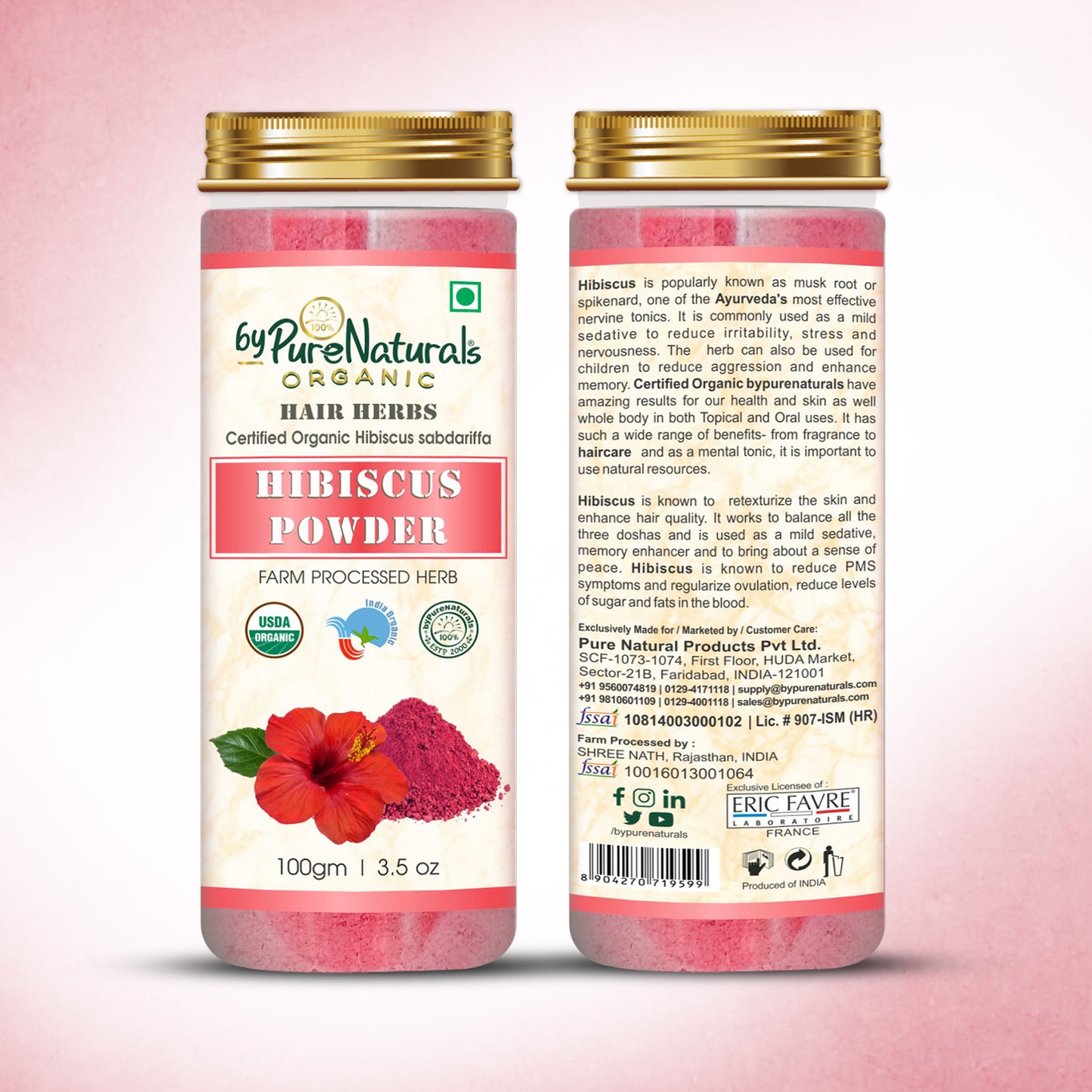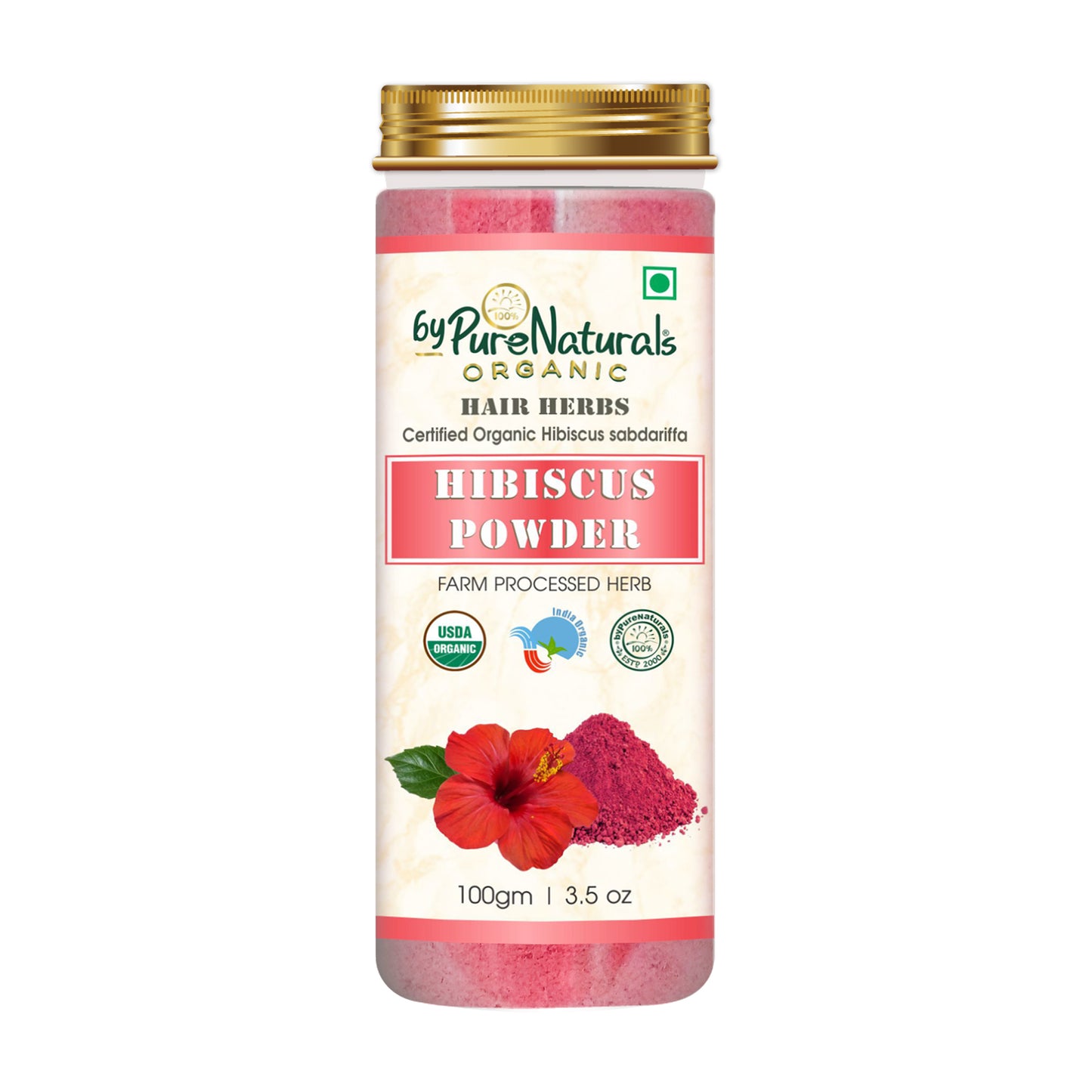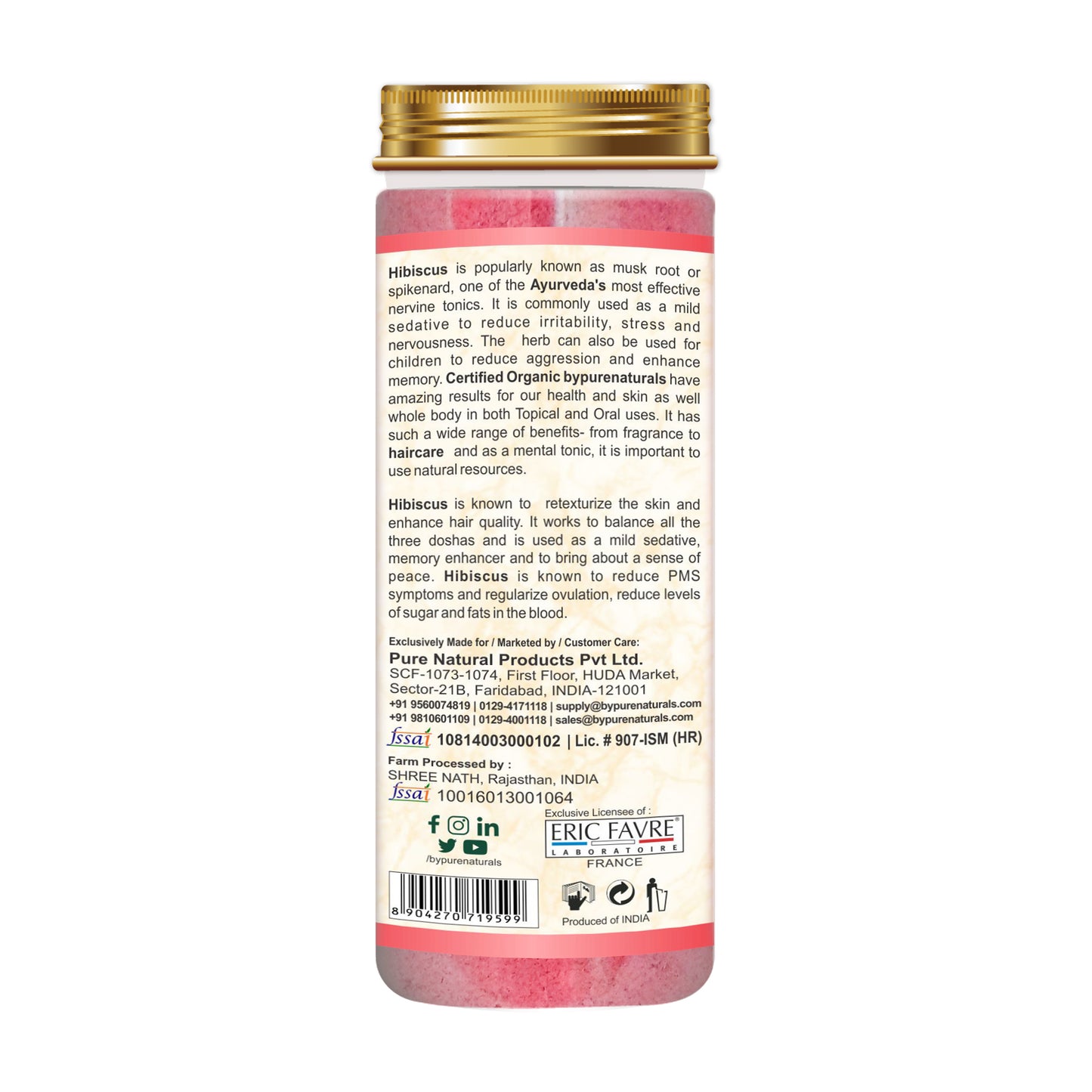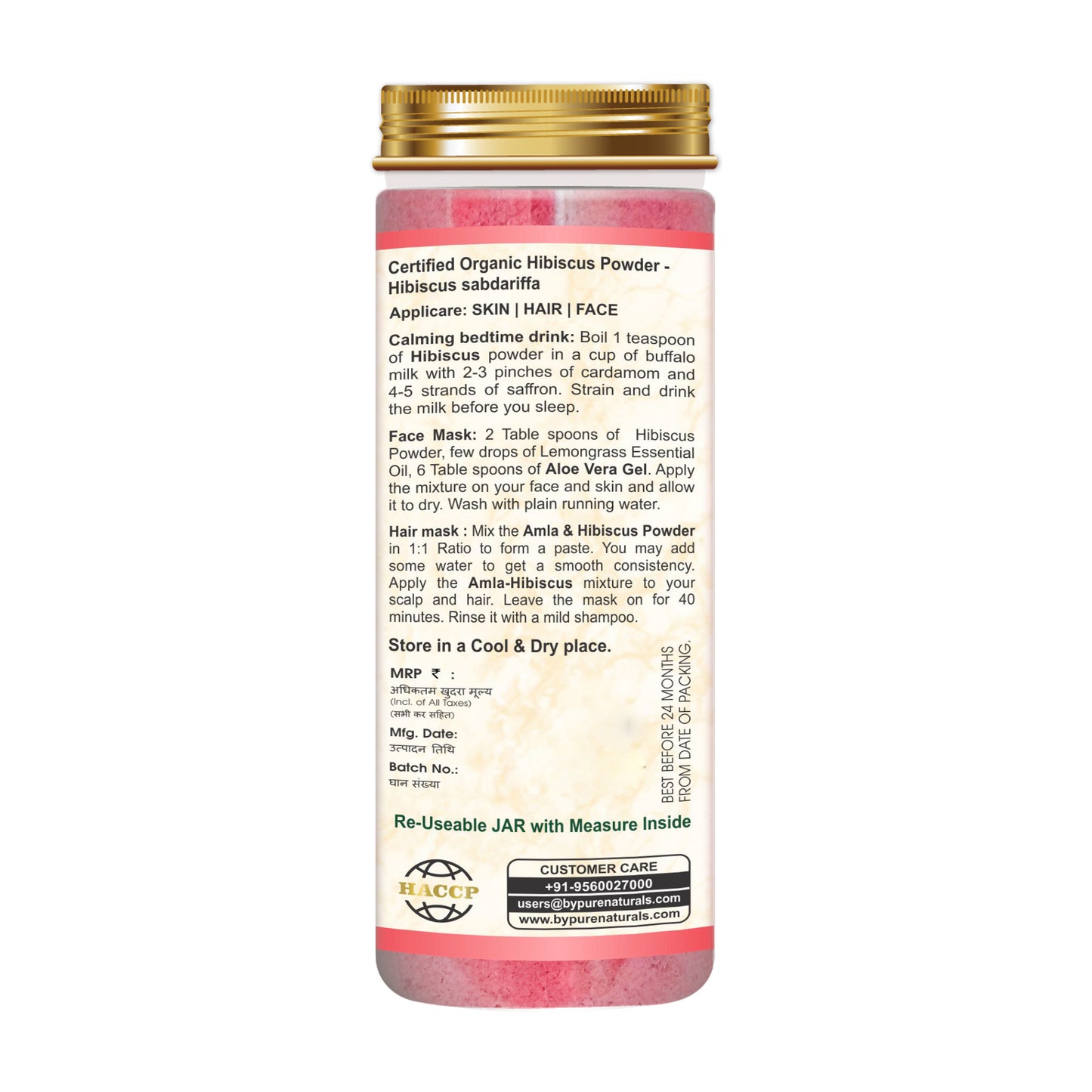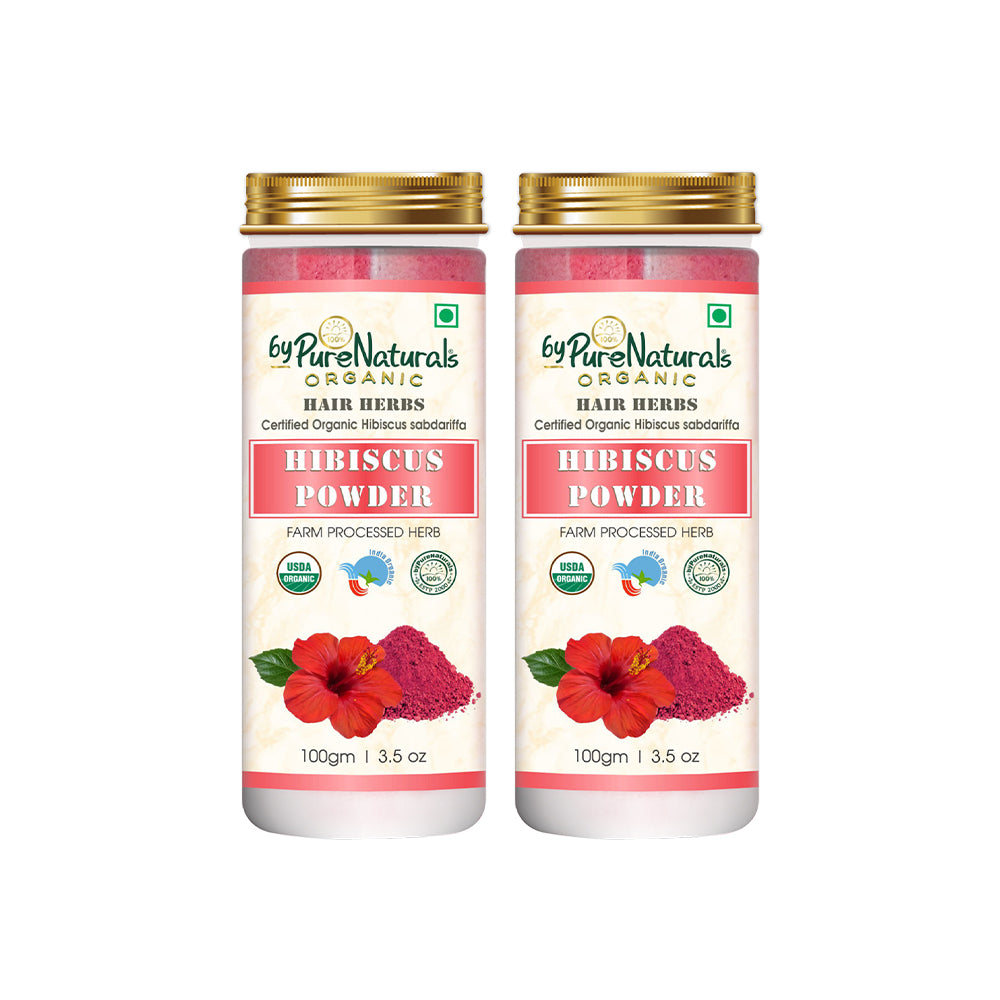 How to use Organic Hibiscus Powder byPureNaturals
Organic Hibiscus powder as a Conditioning Hair Mask

Adding Aloe vera to the organic hibiscus powder can give your hair a smooth and shimmering texture. Mix them and use to as a conditioning hair mask.

Squeeze out fresh Aloe Vera gel byPureNaturals and mix it with hibiscus powder.
You may add additional Organic Amla powder for the nourishing effects of the amla.
Apply it to your whole scalp and spread it evenly from the root to the tip of your hair.
Leave it for around 45 minutes.
Rinse it off with lukewarm water before washing your hair with herbal shampoo byPureNaturals.
Repeat these steps 2-3 times a week for voluminous luxurious hair.

DIY Hibiscus Skin brightening and Tan removal Pack

Mix equal parts of hibiscus powder, kaolin clay, and Gram Flour and activate with water or any brewed tea.

Massage it on damp body skin instead of soap during shower thrice a week.

Rinse and moisturize.

DIY Organic Hibiscus powder Scalp and Hair pack

Mix 1 tbsp hibiscus powder & 1 tbsp Amla Powder in warm water.

Add 2-3 tbspns of Kalonji Oil to it and some more water to make a thin paste.

Apply it all over your scalp and hair.

Leave it on 30 minutes and then shampoo.

DIY Organic Hibiscus powder Exfoliating Face Mask

Mix ½ tbsp each of hibiscus powder, oats and raw honey along with some water.

Let it sit on your face for 5-10 minutes.

Gently massage it in circular motions with wet hands.

Do not massage if you have active acne.

Rinse and pat dry. Use twice a week.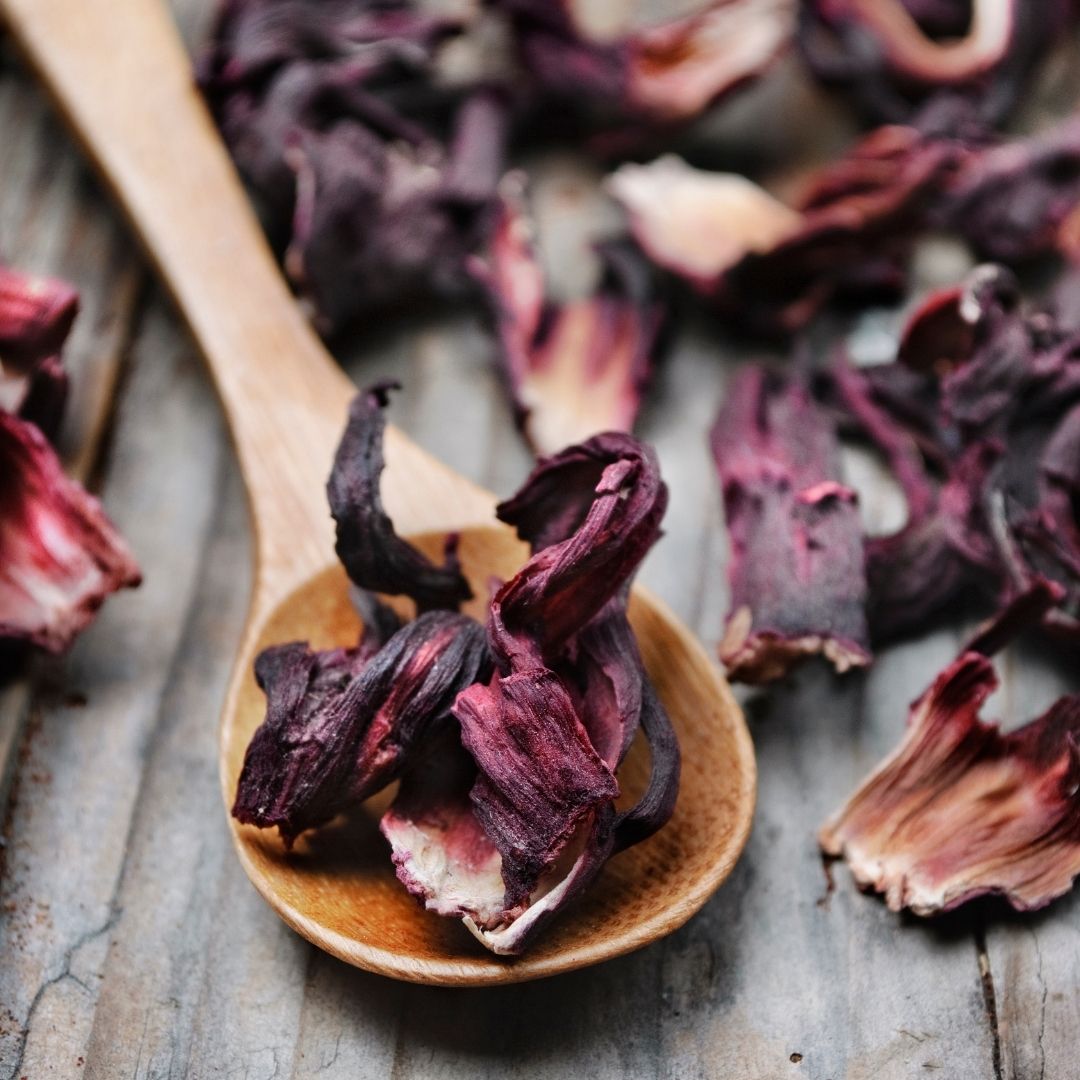 Why to use Organic Hibiscus Powder byPureNaturals
Hibiscus (Jatamansi) is known to retexturize the skin and enhance hair quality. It works to balance all three doshas and is used as a mild sedative, memory enhancer, and to bring about a sense of peace.

Hibiscus promotes the healthy growth of hair and a clear complexion.

Jatamansi is known to reduce PMS symptoms and regularize ovulation.

It helps purify the body both physically and spiritually and is useful in disorders associated with the first and second chakra (Yoga of Herbs).
Watch Video
Why use Organic Hibiscus Powder byPureNaturals
Ingredients

100% Organic Hibiscus Powder


FAQ's

Q: Can you leave hibiscus powder in your hair?
A: Yes. It is safe for use on Hair. You can even Hibiscus powder for hair growth mask instead of using Hibiscus leaves. To prepare this mask, combine equal quantities of Hibiscus powder and Amla powder in water to make a smooth paste. Apply it all over your hair and scalp. Leave it for 40 minutes and then wash it off with a mild shampoo.

Q: How often should you use hibiscus on hair?
A: Hibiscus oil benefits hair by improving blood circulation on the scalp and in the hair follicles. It can be used thrice a week to reap maximum benefits.

Q: Can I use hibiscus powder on my face?
A: You can easily incorporate hibiscus powder in all your face masks, cleansers, scrubs or hair pack recipes.
Blog posts
Blog post
Give your customers a summary of your blog post